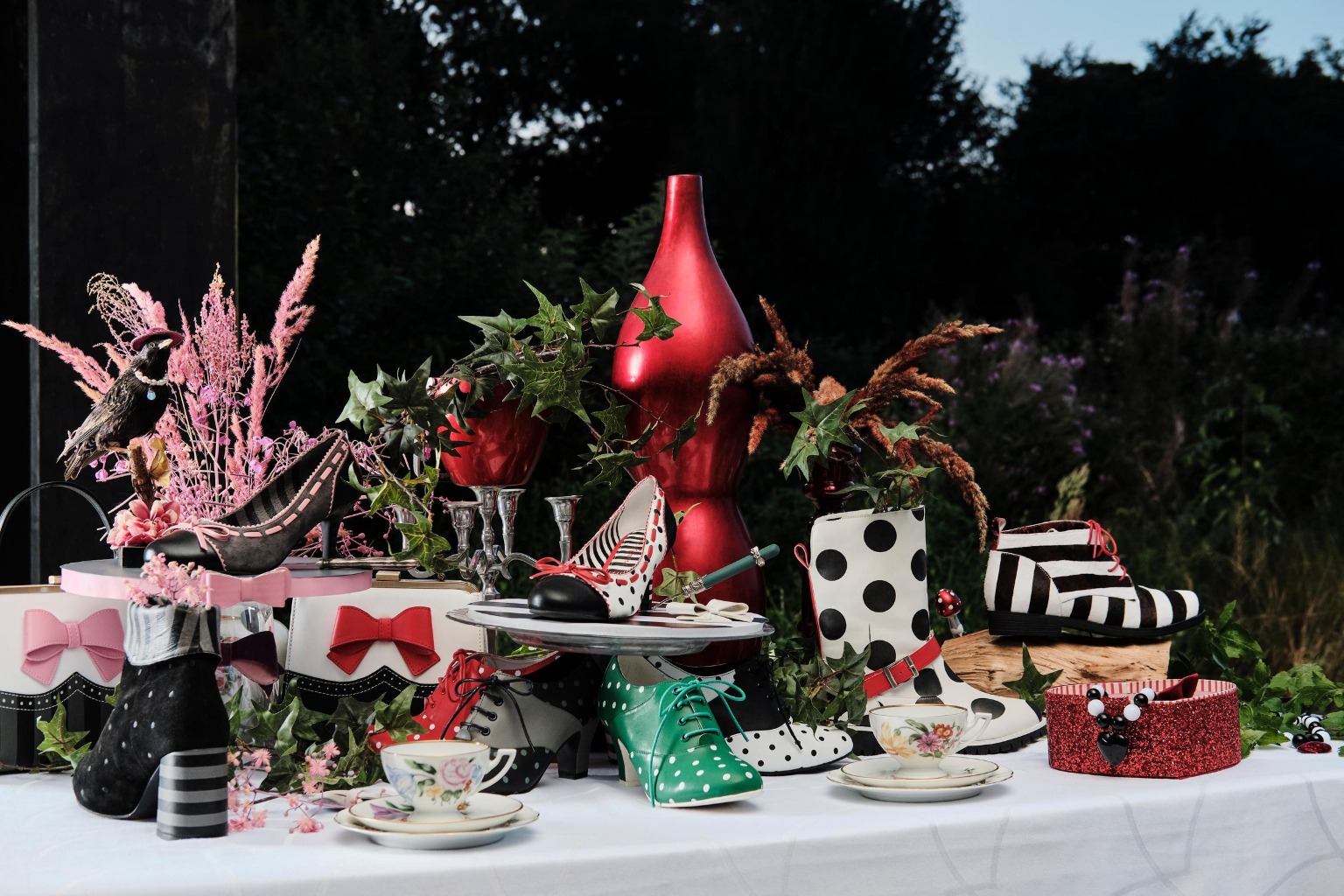 Welcome to the centrepiece of the table. Lola's DNA, consisting of bows, dots and stripes and always featuring our primary colours of red, black and white. This section of our table represents the purest version of Lola Ramona. We have honoured our roots by re creating some classic styles like our Ava Jitterbug and Inez bags. But it wouldn't be Lola if we did not introduce something new. Over the years we have noticed the love for the Ava heel height so we decided to create a brand new style in Cherry which is a stiletto style heel but without the traditional height that you would expect. It delivers the elegance of a Lola Stiletto in a Ava sized package.  Cherry Fizzy and Inez Love We are so proud of this selection of shoes and hope you are too. We know well that winters In northern europe can be unrelenting at the best of times. In Copenhagen it is no different. Our gorgeous Shelly Enjoy was created for just this purpose. She represents a newer style in the Lola catalogue but one that perfectly represents the creative roots from which Lola Ramona has flourished.   Shelly Enjoy With this collection also comes a resurgence of Inez, our most popular handbag. the perfect junction between retro and contemporary, she has seen many facelifts over the years, most recently turning up in a majestic tartan style. However, for the DNA table we chose to look back instead of forward and brought back two Inez styles that have been on our shelves before. Inez Love is a Lola classic sporting all of the classic colours that we know and love. Inez Dawn however is a beautiful accompaniment to the gorgeous Cherry Twilight; really this bag was the catalyst for that shoes creation. We had her with us many years ago and now she is back in all her glory. This resurgence does not represent for us that our fashion is cyclical, rather, it represents how Lola's fashion is timeless and has a place at any moment in time in.  Cherry Twilight and  Inez Dawn We hope you enjoy this beautiful collection of shoes and bags as we have enjoyed creating them for you.  They are now all available at lolaramona.com/collections/lolas-dna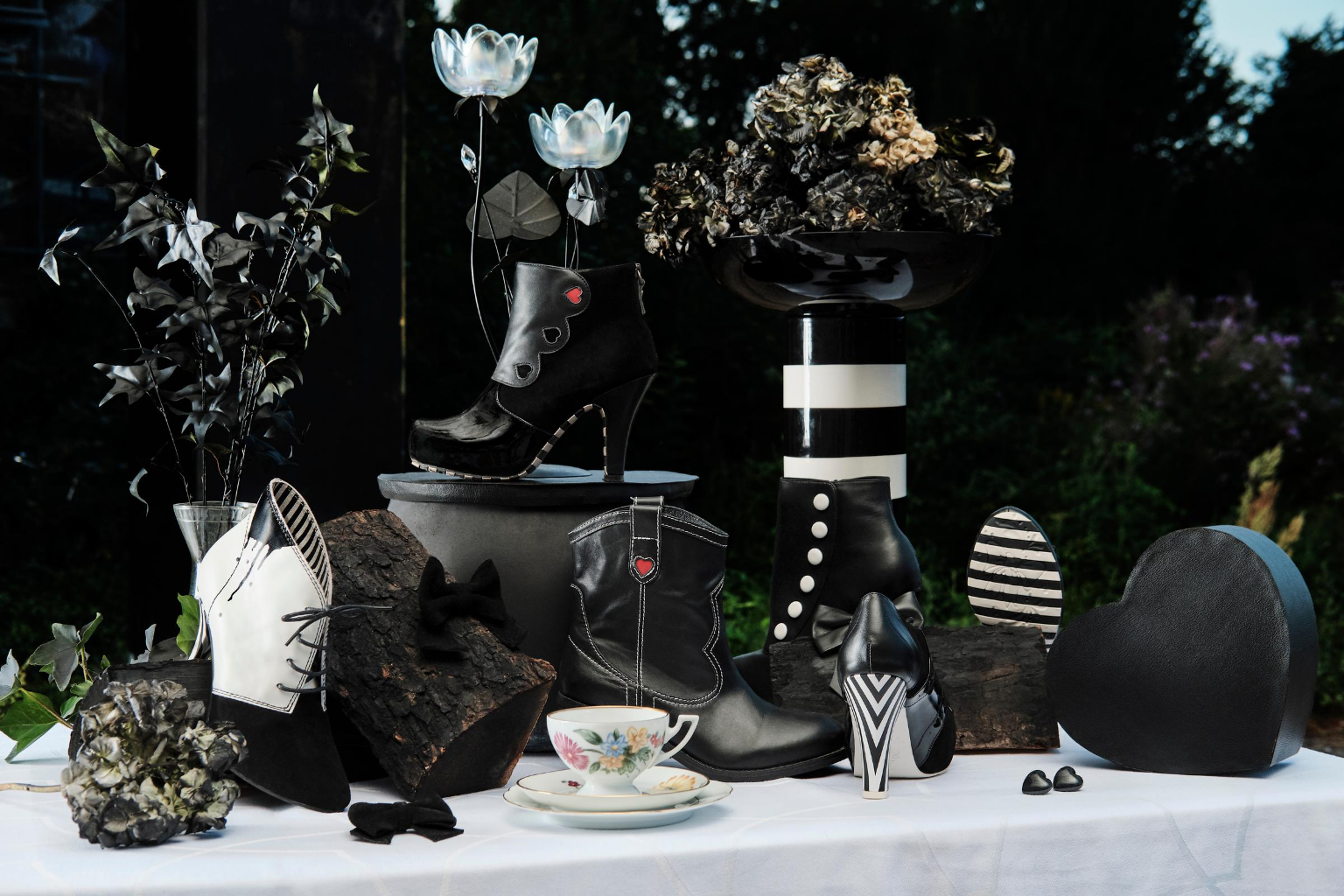 By now we hope you have become acquainted with our Table, Created by our founder Gitte Sandquist, it is a homage to all of her inspirations and loves. Each section of the table represents something different about Lola Ramona. From the earthy greens of the Misty Forest to the black and white stripes of the DNA Table. All of the tables are independently striking, however one of our favourites and the one that probably describes the inner workings of Gitte is the Lola Love story table. It's full of blacks and whites and of course stripes. It is elegant and edgy all at the same time. We spoke to Gitte this week in the wake of our wonderful shop opening to ask her about the collection and why it is so special to her. Angie Heart So, Gitte, what was it that inspired this collection? GS: This collection is derived from so many places. In fact many of these styles are reincarnations of shoes we have created years ago, i just gave them a new look. For me that is why I love it so much because it represents the old Lola just as much as it does the new. It's very much a black and white collection and that's where the brand started with me taking a risk and putting striped heels on shoes when I was told they would not sell. Ever since then i have been in love with the stripes so i suppose you could say this is an homage to that risk! How did you decide the name? GS: Easy, It is what it is, its my love story with my shoes, these are my favourite styles done my favourite way. The little red hearts you can see on them are me stealing the collection with a kiss. Angie Bird and Inez Sweet What does red, white and black mean to the brand? GS: It is the brand, its where we started and no matter how far we may have travelled those three have always been close at hand. It's a fan favorite and it really is the Brands DNA. What kind of person do you envision wearing 'A Lola Love Story' Collection?  GS: We pride ourselves on being the brand that creates shoes that fit your personality - not just your feet. So for me, it's more important that the person who wears these shoes gets something from them and that it helps them feel good about themselves and that they can now better express who they truly are. That person is not definable in my eyes. It could be a man or a woman, or neither. It's all about what the shoe allows you to feel. If it makes you happy, then the right person is wearing it.  Ava Swudge  You can shop this brand new collection right here and fall in love with Lola Ramona all over again!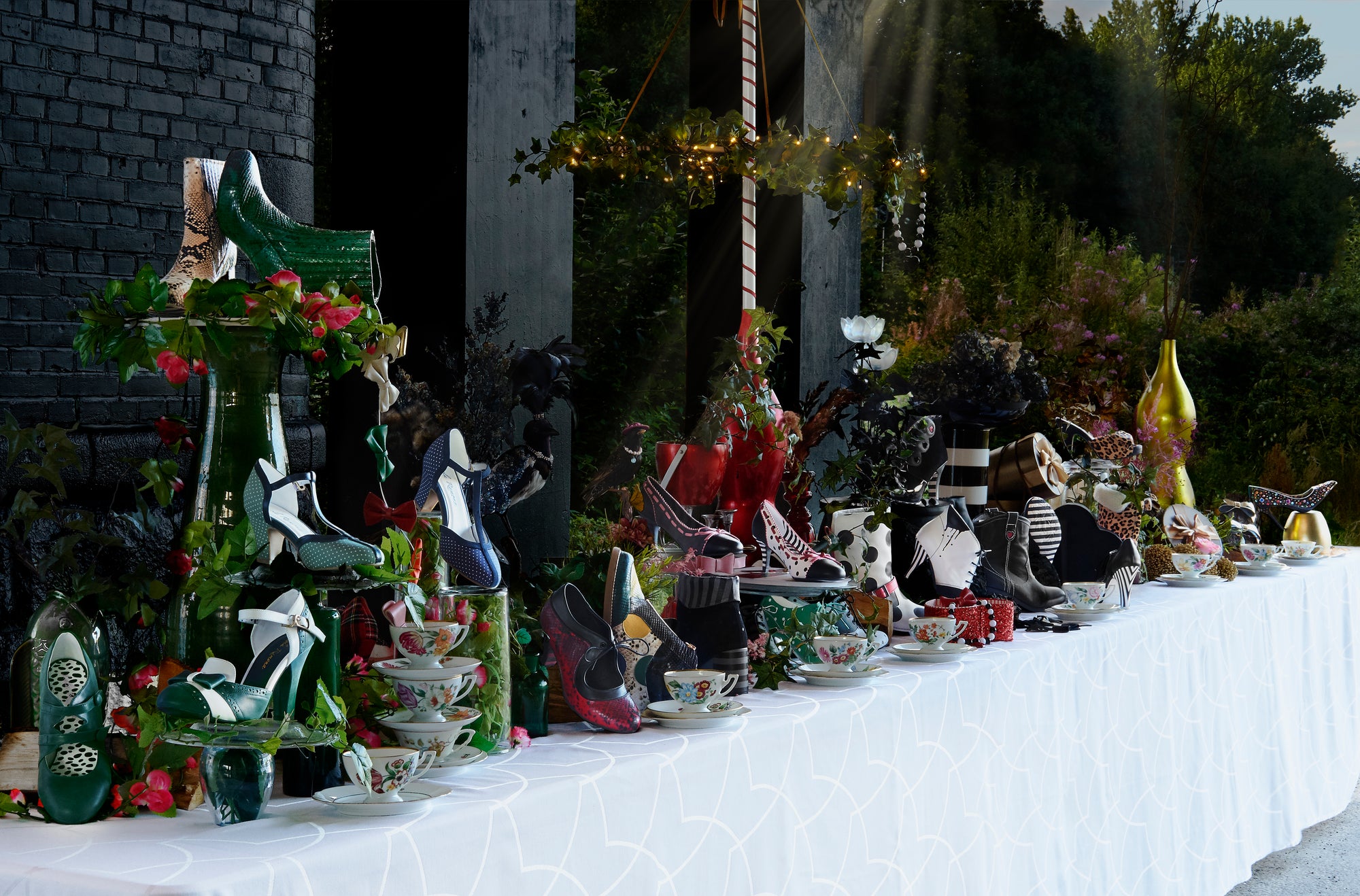 Photo: Jacob Skaaning This Winter Lola Ramona will be taking you on a journey into our enchanted forest to find a table unlike anything you have ever experienced before. So, take our hand and let us lead you to our tea party, take a seat next to the fine china and let the Ivy crawl over you as you slip into a Lola Fairtytale. The Autumn Winter Collection will be delivered to you in different selections. It will combine the new styles with some older classics to create small collections of shoes and bags that truly represent all the different aspects of Lola Ramona and its inspirations.  Over the next weeks and months, we will introduce you individually to every style invited to this party, each one just as special as the last. You will meet our selection of Vegan shoes alongside our suede and leather styles. There will be elements of Retro and vintage as well as Rockstar glam. The black and white stripes of Lola Ramona have always been close and this year they are being celebrated as a Lola Love story, the part of the brand that just cannot ever leave our side. We will seduce you with leopard print in all new ways, pique your desires with beautiful baby pinks and entrance you with tartan. This winter, each week, you will find yourself in a new part of our Fairy tale and we cannot wait to welcome you to the story. Building the Table...   This collection has been a blast for everyone at Lola Ramona. It was created at the disused end of Bispebjerg Train Station in Copenhagen, in the shadows of skateboarders and joggers passing by. We chose this location for its uniqueness. A perfect urban jungle with vines creeping over the old rail tracks; it was part of the inspiration for the collection itself.  Our team worked tirelessly on the day for 12 hours to get all the shots as we had to wait for sundown to really capture the effect that we wanted to create. We hope you agree that the end result is something quite beautiful and mesmerising. These behind the scenes shots give you a little insight into the fun we had on the day.  There is never a dull moment at Lola Ramona...  We hope you love this new collection and the shots from this awesome photoshoot!